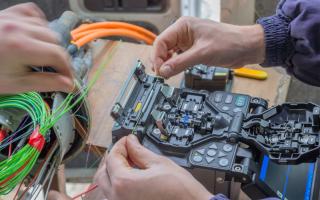 Course Description:
This 2-day Hands-On course provides Advanced fiber optic mechanical and fusion splicing applications and prepares each student to understand premise (ISP) and outside plant (OSP) splicing as well as maintenance skills used for fiber optic cabling...
BTS recognizes that installers and or contractors often have a difficult time getting certified and getting the Hands-On experience needed to do the job. To many courses are focused toward test and exam questions, rather then the understanding and Hands-On Skill-Set to do the job inline with today's standards and competencies.
Our Certification Course to become a Fiber Optic Certified Splicer is designed to get attendees up to speed quickly on industry standards, provide proper splicing, knowledge and get Hands-On training that covers the latest standards, tools, and techniques used today's Fiber Splicing, and give them the ability to represent themselves as "Fiber Optic Certified Splicer."
Attendees will be taught how to properly splice fiber, both fusion and mechanical fiber system. Also, in today's environments technicians need to be able to properly inspect and repair faulty connectors. A portion of this course is used to cover termination techniques and testing of connectors, patch cords and couplers if needed.
BTS's Certification Course to become a BTS Certified Splicer. It is taught by SME certified structured cable specialists with over 25 years of industry experience that includes fiber optic installations, upgrades, cut-overs and consulting for Telephone Companies, Power Energy Companies, United States Federal State Governments, School Districts, and major U.S. Corporations.
Our SMEs have the field experience to find the answers to real live scenarios, providing students with a Real-World Experience.
Attendees each get a Certification Certificate upon completion of this course.
Benefits
-Maximize system performance and reliability by learning today's Splicing techniques.
-Be aware of current industry standards, and become a trusted resource for your customer.
-Gain customer confidence by ensuring the integrity of their fiber splicing abilities and support.
-Hold a Certification Fiber Splicing Card that represents your Certification.
-BTS Certificate remains on electronic record and can be confirmed and reissued at any time.
-This Certification is Nationally and Internationally Recognized.
Students Will Learn:

Course Length:
2 Days