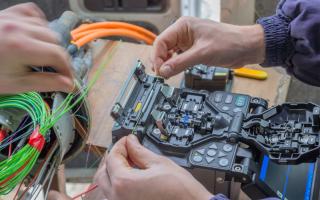 Course Description:
This Hands-On 4-day course (Optional 3 Day without ETA Certification, you will receive a BTS Certificate of Completion) has been customized to provide technicians with a refresher and practical understanding of fiber optic theory and fiber applications for singlemode Outside Plant fiber including proper placement and splicing (This is not a Fiber Splicing course See our other courses for Fiber Splicing and Testing).
This is a Certification Course, it is designed to Confirm the technicians fiber optic knowledge.
This is an ETA Approved course and covers all aspects of the Electronics Technicians Association International requirements for the FOT-OSP certification giving the participant a refresher on applicable methods and standards.
The course is comprised of 2.5 days of review on Outside Plant Fiber (OSP) , Connector installation methods, testing standards and methodologies. Testing is 1.5 days and comprised of a written and a hands-on skills test including cable and splice case prep.
Successful participants will receive ETA Certification that is valid for 4 years.
Our instructors have actual field experience and have faced the same obstacles as your team. Our Real World Experience allows us to provide the participants with the answers and the skills to overcome their daily challenges.
Students Will Learn:

Course Length:
4 Days