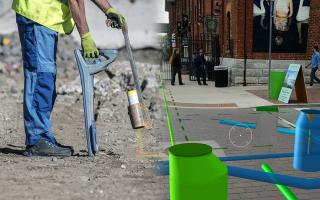 Course Description:
This Hands-On course is a must for your cable locating technicians. Today's congested underground environments with the massive deployment of fiber optic cables, existing copper in the ground, underground utilities (facilities) for telephone and internet services, cabling systems, electric services, gas lines, liquid pipelines, water and sanitary sewage systems, etc. There are too many uncertainties out in the field. Without the proper training, one missed locate can cost you a lot of money and major headaches.
Today's digital locators have pinpoint accuracy, and are superior to locators of the past. We will show you how to use these new locators and the locators you have on-site.
This course can also be geared to andor include
-Sheath Fault Locating
-3D Laser Scanning LiDaR
-2D3D Interior As-Builts
-3D Walk-Thru Tours and Virtual Reality
-2D3D Aerial Imagery Videography
-Utility Locating and Mapping
-Structural Scanning
-Point Cloud Data Collection and Processing
-811 Locate Contracts
-Subsurface Utility Engineering AB Levels
BTS is one of the only U.S. and International Approved Course and Vendor for Phillips 66. BTS is the only NULCA accredited trainer in the country, we teach to CGA standards.
Students Will Learn:

Course Length:
2 Days