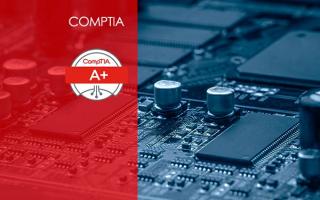 Course Description:
This extensive Virtual Live Instructor-led CompTIA course meets the NEW DoD Directive 8140 requirements.
The Virtual Option course Includes
-Testing Voucher with Virtual Testing and Certification on Last Day.
Will Department of Defense (DoD) Directive 8140 replace DoDD 8570? Yes.
When will DoD 8140 take effect? It is already in effect.
Why Change from 8570 to 8140?
DoD 8140 is designed to be more flexible and inclusive than DoD 8570. DoD 8140 includes initiatives such as NIST NICE (National Initiative for Cybersecurity Education), which identifies critical KSAs (Knowledge, Skills, and Abilities) and places cybersecurity positions into 7 categories (1. Security Provision, 2. Operate Maintain, 3. Protect Defend, 4. Analyze, 5. Operate Collect, 6. Oversight Development, and 7. Investigate) consisting of 31 specialty areas.
A+ from CompTIA is the most recognized and trusted for entry-level service technicians.
CompTIA's A+ is the industry standard for validating the foundation skills needed by today's computer support technicians. This international vendor-neutral certification requires that you pass two exams CompTIA A+ Exams Core 1 (220-1001) and Core 2 (220-1002).
The CompTIA A+ Core Series Core 1 (220-1001) and Core 2 (220-1002) covering the following new content
-Demonstrate baseline security skills for IT support professionals
-Configure device operating systems, including Windows, Mac, Linux, Chrome OS, Android and iOS and administer client-based as well as cloud-based (SaaS) software
-Troubleshoot and problem solve core service and support challenges while applying best practices for documentation, change management, and scripting
-Support basic IT infrastructure and networking
-Configure and support PC, mobile and IoT device hardware
-Implement basic data backup and recovery methods and apply data storage and management best practices
We focus on CompTIA A+ certification exam preparation, you'll gain the needed knowledge of basic computer hardware and operating systems. You'll cover the essential principles of installing, building, upgrading, repairing, configuring, troubleshooting, optimizing, diagnosing, and preventive maintenance, and you'll learn elements of customer service and communication skills necessary to work with clients. Instructor-led practice exams and quizzes help reinforce course concepts and exam readiness.
This course meets the NEW DoD 8140 training requirements.
CompTIA A+ certification is an international, vendor-neutral certification that proves a technician's competency in installation, preventative maintenance, networking, security, and troubleshooting. CompTIA A+ certification also validates that technicians have excellent customer service and communication skills.
CompTIA A+ certified professionals are proven problem solvers. They support todays core technologies from security to cloud to data management and more. CompTIA A+ is the industry standard for launching IT careers into todays digital world
-The only credential with performance-based items to prove pros can think on their feet to perform critical IT support tasks in the moment
-Trusted by employers around the world to identify the go-to person in end point management technical support roles
-Regularly re-invented by IT experts to ensure that it validates core skills and abilities demanded in the workplace
This course is geared to give students Real-World Experience in networking hardware software by providing Hands-On labs on these converging technologies throughout this training.
Students Will Learn:

Course Length:
5 Days