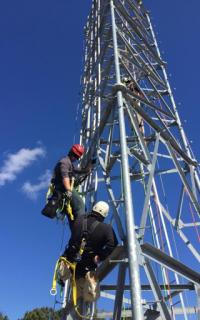 Course Description:
This Hands-On course meets requirements set by OSHA and NATE for the Tower Industry.
The main objective of this Hands-On Authorized Climber and Rescue Training course is to prepare individuals with little or no experience to be able to safely climb and work on various types and sizes of towers. This course assures that the student will develop the knowledge base necessary to safely climb and work on towers, as well as the practical skill necessary to be able to safely perform his or her duty.
Employers are required to provide expedient rescue for employees that work at heights. Our tower Climber and rescue courses empower tower climbers and professional rescuers with the tools and knowledge to rescue incapacitated personnel efficiently and safely. This Hands-On course begins with a review of modern fall protection and climbing techniques for towers, and then builds on these techniques with simple and effective rescue procedures.
Low student-to-instructor ratios and appropriate splits allow us to customize the curriculum to individualcorporate needs.
Designed in cooperation with the Regional OSHA office, this course is designed to meet and exceed all of the recommended training called for in the NATE (National Association of Tower Erectors) guidelines for Qualified Climbers. In order to successfully complete the course, the student must attain a score of 100 on the written final, and must demonstrate proper techniques in all competencies included in the practical skill sets.
Upon completion of this course students will receive a certificate of completion and will state 24 hours of Hands-On Training, CECs, and will also receive a Certified Tower Climber Rescue ID Card, to provide to site supervisors, contractors, inspectors, and anyone that requires proof of certification.
The courses are taught by our BTS Industry Experts, and our courses have been recognized and approved by both OSHA and NATE. In addition, BTS is an approved training provider for Bechtel, General Dynamics, CalTrans, GSA, CN Railway, American Tower Corporation, Black and Veatch, Verizon, TDS Telecom, ATT, Frontier, Lumen, Windstream, CenturyLink, Southern California Edison, FPL and our U.S. Military Branches many additional Government and City municipalities.
Students Will Learn:

Course Length:
3 Days