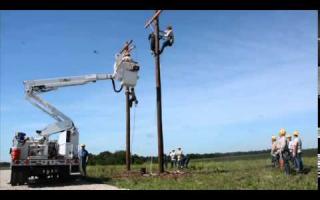 Course Description:
The reaction to emergencies can be life or death situations. Pole top and bucket truck rescue training teaches the skills necessary to save another persons life.
This course will give actual Hands-On experience for both pole top and bucket truck rescue operations that require dynamic action. The rigging, lifting, and lowering skills necessary to get the victim down from elevated heights must be trained and practiced. Rescue techniques from pole tops and aerial bucket trucks should be included in all annual training so workers can be prepared for any emergency situation.
This rescue training will meet OSHA requirements for rescue instruction and a certification of completion for both training sessions will be issued.
Students Will Learn:

Course Length:
1 Day