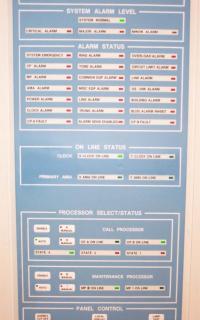 Course Description:
An accelerated version of the traditional GENBAND (formerly
Stromberg-Carlson and Siemens) DCO maintenance and
troubleshooting course, this class is designed to jump-start
students with little or no switching knowledge to a competency
where they can perform first-tier card-level repair on virtually
any of the main modules in the Digital Central Office DCO
switch. Topics of most interest can be emphasized, such as
processor interoperation, bus types, cabling, and cell
structures.
The multiple processor types are studied, including the MP,
FP, CP, and TPP, along with the Serial Line Units for system
console connections and the EAI. Different Line Switch types
are also discussed, and their architecture including the Line
Switch Controllers, Line Group Highway, and peripheral circuit
cards, along with interconnection to the TSI via the Port Group
Highway. Ancillary equipment such as SS7 links, recorder
announcers, ringing generators, remotes, and billing are also
explained, along with the different remote types including the
RLS, RNS, RLG, and both SLC-96 and GR-303 RDTs, which
requires the latest LLS variety, the DLS-1080.
Other important modules are described, including the CBC and
MCI, and their connections to Switchover Control, plus the DL and SSC interoperation with the Call
Processors, which control time slots. The Mass Storage Subsystem components are also described
including the MSDA hard drive and tape drive. Servicing of the MSDA tape drive is demonstrated,
extending the life of this important card.
Previous faults and any actual faults in the system can be used for analysis and research in
documentation. These non-intrusive exercises are used to troubleshoot the switch via symptoms
and documentation, and drill the correct troubleshooting techniques, including those normally
intended for a Maintenance-window. Basic translations and interrogation of overlays like ADM, RTR,
and TRK can optionally be used to familiarize students with directory number and trunk database.
Envisioned as a minimum 5 day track, the actual course length and content is flexible, and can be
adjusted depending upon the needs of the class. In addition to supporting independent problem-
solving skills, the course helps provide an excellent background for NOC and TAC interaction.
Students Will Learn:

Course Length:
5 Days