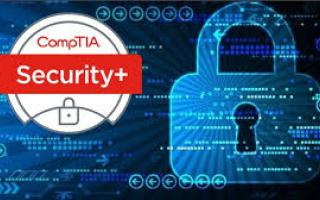 Course Description:
This extensive Virtual Live Instructor-led CompTIA Security+ meets the NEW DoD Directive 8140 requirements and the latest version CompTIA Security+ (SY0-501) English language exam will retire on July 31, 2021. The new Security+ (SY0-601) is now available.
This course Includes
-Testing Voucher with Virtual Testing and Certification on Last Day
-Official CompTIA Virtual Live Exam and Testing Certification.
BTS works with clients to deliver appropriate material to become CompTIA Security+ certified. This Hands-On course meets DoD Directive 8570.1 requirements.
CompTIA's Security+ is the premier vendor-neutral security certification and demonstrates your knowledge of security concepts, tools, and procedures. It confirms your ability to react to security incidents, and it validates your skill in anticipating security risks and guarding against them.
In this course, you will learn to proactively implement sound security protocols to mitigate security risks, quickly respond to security issues, and retroactively identify where security breaches may have occurred. You will also learn to design a network, on-site or in the cloud, with security in mind.
CompTIA's Security+ is the premier vendor-neutral security certification and is included in the approved list of certifications to meet DoD Directive 8570.1 requirements. This course uses Official CompTIA Approved Quality Content, which assures that all test objectives are covered in the training material.
During class, you'll have access to
-Security+ student manual
-Additional Security+ practice exam questions
-Comprehension exercises, study digest, and quick reference card
-Virtual Access to Official Testing Severs for Course-end Testing.
Students Will Learn:

Course Length:
5 Days