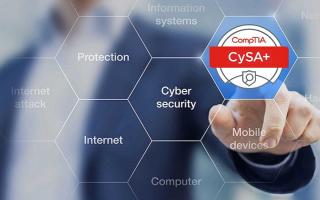 Course Description:
This extensive Virtual "Live" Instructor-Led CompTIA Cybersecurity Analyst (CySA+) course also prepares attendees for the exam. This exam is an intermediate-level credential for cybersecurity professionals.
As attackers have learned to evade traditional signature-based solutions, such as firewalls, an analytics-based approach within the IT security industry is increasingly important for most organizations. The behavioral analytics skills covered by CySA+ identify and combat malware, and advanced persistent threats (APTs), resulting in enhanced threat visibility across a broad attack surface.
The exam will certify that the successful candidate has the knowledge and skills required to
-Perform data analysis and interpret the results to identify vulnerabilities, threats, and risks to an organization
-Configure and use threat detection tools
-Secure and protect applications and systems within an organization
CompTIA CySA+ meets the ISO 17024 standard and is approved by U.S. Department of Defense to fulfill Directive 8570.01-M requirements. It is compliant with government regulations under the Federal Information Security Management Act (FISMA). Regulators and government rely on ANSI accreditation because it provides confidence and trust in the outputs of an accredited program. Over 1.3 million CompTIA ISOANSI-accredited exams have been delivered since January 1, 2011.
This course meets the NEW DoD Directive 8140 requirements.
Will Department of Defense (DoD) Directive 8140 replace DoDD 8570? Yes.
When will DoD 8140 take effect? It is already in effect.
Why Change from 8570 to 8140?
DoD 8140 is designed to be more flexible and inclusive than DoD 8570. DoD 8140 includes initiatives such as NIST NICE (National Initiative for Cybersecurity Education), which identifies critical KSAs (Knowledge, Skills, and Abilities) and places cybersecurity positions into 7 categories (1. Security Provision, 2. Operate Maintain, 3. Protect Defend, 4. Analyze, 5. Operate Collect, 6. Oversight Development, and 7. Investigate) consisting of 31 specialty areas.
BTS works with clients to deliver appropriate material to become certified. Course design uses the latest texts and other materials over a one or two week period based on client needs. Time is allowed after each Instructor presentation and demonstration for student Hands-On work on labs, practice exams and Network+ related drills.
BTS offers On-Site or Virtual Test Administration for this course, or students can take the exam at their own leisure at a certified testing center of their choice and schedule.
Students Will Learn:

Course Length:
5 Days