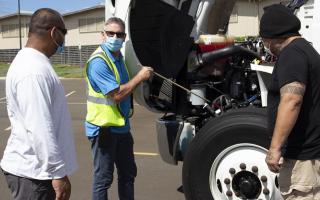 Course Description:
BTS Training offers an extensive On-Site (CDL) Commercial Driver License training Test-Preparation course which covers all pertinent information that typically appears on both the Hands-On and written CDL test. We work with you to tailor our course to meet your organizations specific commercial and truck driving needs while providing your employees with the knowledge to safely drive commercial trucks in accordance with state and federal regulations. Our CDL prep test and training course is the most effective way for your employees to learn the material necessary for passing their CDL exams.
At BTS Training, our CDL Instructors have Real-World Experienced and are the best in the industry. Our effective Hands-On approach will help prepare employees for taking both their Written and Driving Skills Tests to obtain their CDL. We bring our training course to your site, saving you time and travel expenses. In addition, our On-Site CDL prep test can be customized to meet your organizations specific equipment needs and your states requirements.
When preparing for a Commercial Drivers License (CDL), simply reading through the CDLs drivers manual or depending on your driving experience alone will not provide you with the necessary information and skills to pass the various CDL tests and licensing. Further training should be obtained in order to pass the CDL Written and Driving Skill Tests.
THE PROCESS OF OBTAINING A COMMERCIAL DRIVERS LICENSE
Similar to getting a regular driver license, those looking to obtain a CDL must first get a permit by passing a series of written exams. While specific requirements vary from state to state, most states' CDL permit testing covers General Knowledge, Air Brakes, and Combination vehicles. For drivers in need of certain endorsements such as Hazardous Materials (HazMat), additional written CDL endorsements exams are needed. Finally, drivers must pass the CDL driving test, which is a 3-part exam that includes pre-trip inspection test, basic control skill test, and a driving test. Once all three skills are passed, the driver can be issued a CDL.
BTS Looks forward to having your employees prepared to pass their exams and obtain their CDL and get out on the road.
Students Will Learn:

Course Length:
5 Days