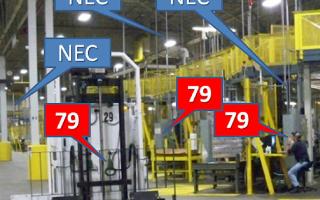 Course Description:
NFPA 79 Training - Electrical Standard For Industrial Machinery - Our Instructor-Led, course teaches proper production equipment uptime and reliability. This course is designed for employees who maintain or repair machine electrical controls as part of a companys production process. NFPA 79-2021 provides safeguards for industrial machinery to protect operators, equipment, facilities, and work-in-progress from fire and electrical hazards.
NFPA 79-2021 is the Electrical Standard for Industrial Machinery and thus one of the most important industry-specific standards in North America. As of the standard's current 2018 edition, surge protection is now also a mandatory component of all industrial machinery. Worker and equipment safety is the key when working with industrial machinery, not only the kind of safety that protects and preserves lives but also the procedures that help protect your valuable equipment. Avoiding equipment downtime from accidents and disruptions, as well as the added costs of replacing damaged equipment, is the focus of this course.
NFPA 79-2021 Electrical Standard For Industrial Machinery is the key regulatory standard for administering a safety protocol in any business that uses industrial machinery. This standard provides information that helps managers and workers apply the provisions of the standard to electrical equipment or systems. It applies to electrical or electronic equipment (or apparatus or systems) of industrial machines supplied from nominal voltage of 1000 volts or less. The standard applies to the point of connection of the supply circuit conductors to the electrical equipment of the machine. The standard is designed to protect equipment, operators, the facilities, and jobs in progress from electrical and fire hazards.
Our course helps students to understand NFPA 79-2021 and its relationship with other NFPA codes. Learn how to effectively use the Standard as a guideline for wiring, sizing conductors and over-current protection for industrial machines operating from a nominal voltage of 1000 volts or less.
The NFPA 70 addresses how that equipment can be electrically installed but the NEC stops at the outside of the piece of equipment. NFPA 79-2021 picks-up inside the equipment and addresses how the wiring and grounding of the actual piece of equipment is done. When equipment does need maintenance or repair, workers need to understand why the electrical controls and components were designed and installed the way they are so you can keep it that way.
So if you want to understand NFPA 79, have your team repair your equipments electrical components correctly for safety, compliance, and longer equipment use, and build a better Preventative Maintenance procedures that can be correctly applied, then take a look at our newly update NFPA 79 course. Its a must for today's fast changing and challenging electrical environments.
Students Will Learn:

Course Length:
2 Days