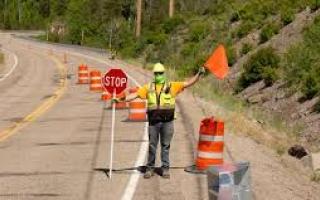 Course Description:
The Hands-On Flagger Certification Training Course is designed to teach work zone personnel assigned to traffic control duties. During the course, participants are instructed on proper flagging techniques critical to the safety of work zone personnel and guided through demonstrations designed to help reduce the risk of traffic accidents, injuries, and fatalities.
Individuals working in this type of role are responsible for providing clear direction and communication to protect the safety of workers, pedestrians and the motoring public traveling through work zones.
Students will learn the proper use of flagging signals, references, practices and devices.
At the end of this Flagging safety training course successful students will know how to apply the Hands-On lessons learned to safely and effectively perform flagging activities in work zones. In addition to classroom training, all participants are provided opportunities to practice using those techniques demonstrated during assigned practical field scenarios.
Classroom demonstrations and Hands-On practice are used to demonstrate key skills. Upon successful completion, students will be issued a certificate and flagger certification card.
Students Will Learn:

Course Length:
1 Day