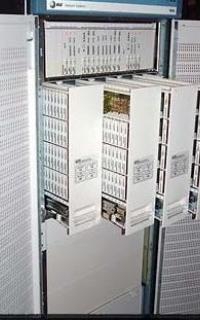 Course Description:
This Hands-On 5ESS Operations for Field and Control Center (NOC, NRC, SCC, CCC, etc.) course begins with a general overview of the 5ESS Switch with emphasis placed on the Modules and Unit functions. Next, the Central Office Power configuration and Power Alarm arrangements through the 5ESS display screens are explained. This is followed with a lesson presenting the function and operation of the Administrative Module, its Units, related display screens and commands. The function and operation of the Communication Module 2 (CM2), Communication Module 3 (CM3) and Quad Link Packet Switch Network (QLPS) are presented next.
This includes the QLPS, CM2, CM3, display screens and related commands. The Switching Module Processor lesson presents the function and operation of the MCTU, MCTU2, MCTU3, SMPU4 TSIU4, SMPU5 TSIU4-2 and SMU6 along with their display screens and commands.
The next lesson, Switching Module Peripheral Units, presents function and operation of all the different Peripheral Units that can reside in a Switching Module. This lesson also includes related display screens and commands. The Signaling System 7 lesson is presented next and addresses both the IRN2 and PSU-SS7 versions along with related display screens and commands. The next lesson presents Software Update display screens and procedures as defined in Alcatel-Lucent s Routine Operations and Maintenance Procedures document, 235-105-110.
The last lesson presents Call Processing through the 5ESS and Related Recent Change Views. Alcatel-Lucents 5ESS Dyna Text Switch documentation is referenced throughout this course. This course can be customized to include Control
Center (SCCNOCNRC etc.) Operational Support System (OSS NMA, TNM, Netcool, etc.) messages.
The objective of 5ESS Operations is to train maintenance personnel to effectively maintain a 5ESS and care for alarms, abnormal conditions and service affecting situations. After completing this course, you will be able to
-5ESS Overview
-5ESS Power, Power Procedures, Alarms and 5ESS Equip.Diagnostics
-Administrative Module Functions, Circuitry and Terminations
-Communication Module 2 3 Functions, Circuitry and Terminations
-Switching Module Processors Functions, Circuitry and Terminations
-Switching Module Peripheral Unit Functions, Circuitry and Terminations
-Common Network Interface and Packet Switch Unit System Signaling 7 Functions, Circuitry and Terminations
-Software Update Broadcast Warning Messages (SUBWM) basic information
-Origination Call Processing through the 5ESS Equipment and RCVs
-Line Unit (LU) 1, 2 and 3
-Access Interface Unit (AIU, EAIU and XAIU)
-Integrated Services Line Unit (ISLU 1 2)
-Packet Switch Unit (PSU PSU2)
-Integrated Digital Carrier Unit (IDCU)
-Digital Carrier Line Unit (DCLU)
-Digital Line Trunk Unit (DLTU and DLTU2)
-Trunk Unit (TU)
-Digital Network Unit SONET (DNU-S)
-Optical Interface Unit (OIU)
-Digital Service Units (1, 2 3) LDSU GDSU
-And Others
Students Will Learn:

Course Length:
5 Days