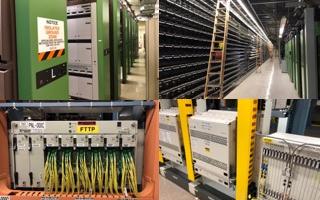 Course Description:
This extensive Virtual "Live" Instructor-Led course provides the absolute foundation needed for any CO (Central Office) Personnel that plans on going through an specific Switch training.
Understanding new and existing switching equipment within a central office can be daunting. The CO Switching Fundamentals course was developed upon request to help techs with relatively little CO experience to become knowledgeable about various switching technologies found within a CO, how switches work, and how they connect with other network elements. Envisioned as a preparatory course for TDM Switching courses, this course can also be offered to prepare for Optical ROADM, MPLS, andor IP telephony switching.
The course starts with an overview of the PSTN, and the equipment found within almost any typical Central Office. Common terms and mnemonics are used extensively to help immerse students with the lingo, and learn the terminology quickly. Analog and digital signals are explained, including the differences between TDM and FDM, the ADCDAC process, and PCM which are foundations for nearly all switching technology. Common digital and optical carrier standards are presented including DS1, DS3, OC-1, OC-3, STS-1, line coding, clear-channel signaling, etc. NPAs, LATAs and Rate Areas are defined, along with CLASS SS7 network topologies. Important nodes like the SSP, STP, and SCP are explained, along with definitions of links, link sets, and route sets. The OSI model is presented, comparing layers for SS7 and Internet networks.
Binary and Hexadecimal are then discussed, including MSB, LSB, and byte reversal. Exercises are used to reinforce Bin-Hex-Dec conversion, using register dumps from various switches as examples. The Time-Space-Time model is then presented in some detail, as it is the basis for any TDM switch. Multiplexing, switching, and sample phone calls through an SS7 network are shown, along with exercises to test retention of the key concepts.
Switch external connections are then shown, including many types of equipment that a switch may directly connect to, or gather alarms from, including voice mail systems, recorder announcers, AMA links, ringing generators, operator services, and building alarms. SLC-96 and GR-303 integration is taught, and particularly the capabilities of GR-303 which is used extensively as a voice packet interface to the PSTN.
A module on formal troubleshooting methodology is included, which presents several ways to investigate symptoms within a complex network, and how to investigate what resources are potentially available, and where to look for them. The course finishes with a module on typical telco operations, including NOCSCC communication, support tiers, electro-static damage mitigation, reporting, escalation, and sample work checklists.
Students Will Learn:

Course Length:
2 Days