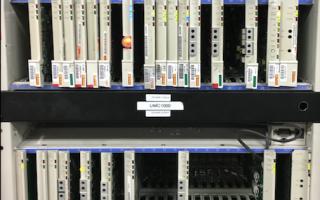 Course Description:
The Tellabs 1000 (UMC1000) Maintenance and Troubleshooting Course (formerly the AFC UMC1000) is designed to provide any student with a solid understanding of the various aspects of the AccessMAXMSAP-series platform and its many features and options. The roles of a 1000 network shelf within a modern switching transport network is explored, with discussions on its theory, options, maintenance, provisioning, and troubleshooting.
The hardware design of the system and its versions (POTS, ATM, ADSLVDSL, PON) are explained, along with optional LETRST and TR-8, TR-57, GR-303 configurations, including connections to existing Class 5 switching systems. Various options are explained, including the different types of customer POTS plug-ins, T1, DS3, and ADSLVDSL. Key concepts like TDM switching, copper and optical transport, and host-remote are explained, plus newer services like FTTP and OLTONTs are introduced. Transaction Language 1 (TL1), Craft Interface GUI, Panorama, and other input-output options are shown. Common maintenance functions like checking alarms, air filters, and backups are discussed, along with more advanced troubleshooting procedures for card-level repair, and for analysis of host T1 links with EOCTMC channels. Other AccessMAX equipment is also reviewed, including DMAX, EMAX, as well as UMC variants within the Multiservice Access Platform (MSAP) series, including the multiple types of RSC cabinets. Fundamentals of telecom copper and fiber networks is also provided, to help the student understand the many ways of connecting to the equipment, and to understand its many features.
Symptom investigation and troubleshooting are demonstrated using previous trouble examples, and through actual troubles which may exist in the network. Common fault types and best practices are also presented, to help prevent troubles from occurring in the first place. In addition to supporting independent problem-solving skills, the course helps provide an excellent background for NOC and TAC interaction.
Our non-intrusive exercises equip the student to conduct day-to-day maintenance activities and show how to perform troubleshooting procedures, including aspects of problem isolation, cabling and portcard provisioning, which helps prepare students for higher-tier support interaction. The course is flexible, allowing the most important content for a particular group of students to be emphasized, and to allow for emphasis on the particular MSAPUMC1000 platform(s) in use.
Students Will Learn:

Course Length:
5 Days